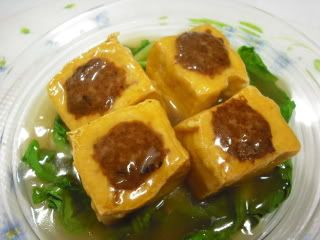 Here's a great recipe for those of you who are left with a block of tofu sitting in the fridge. I mean, who can eat all that tofu? I remembered there was a Chinese recipe of hollowing out tofu blocks, stuffing it with meat and deep-frying it. Lastly, the golden-crunchy blocks are covered with sauce.
The result? Crispy tofu with soft, creamy meaty innards. Your block of tofu will be gone in no time.
Recipe:
1 block firm tofu
1/2 cup ground meat (pork, chicken or beef)
1/4 cup finely minced carrot
2 mushrooms, finely minced
1/4 cup finely minced onion
1 garlic clove, finely minced
2 sprigs of spring onion, minced
1 egg
1 cup cooking oil
Sauce ingredients:
1 cup chicken broth (or vegetable broth)
1 tablespoon corn starch
1 tablespoon oyster sauce
1. Combine ground meat with egg, carrots, mushrooms, onion, garlic and spring onions. Salt and pepper the mixture and set aside.
2. With a sharp knife, cut the tofu into 8 blocks. Take a small spoon and hollow out the center of each tofu block. Be careful as not to pierce a hole in it.
3. Take your stuffing and stuff the holes that you carved out. If you have leftover meat stuffing, combine it with the tofu pieces that you took out of the blocks and you can fry these as fritters.
4. In a deep pan or wok, heat the oil until it is very hot. Carefully place the stuffed tofu (meat side down) on the pan and fry until all the sides are golden. Take these out and let drain on paper towels.
5. In the same pan, take out the oil and wipe the pan down. Heat it up again and in a bowl combine all the sauce ingredients. Put the mixture in the pan and stir like crazy. When the sauce gels up, add the fried tofu blocks and let everything get covered in the sauce. Serve hot as a side dish.